December 7
A little while ago ... oups, well almost six months ago! I was out with my friend H and Y at the Romandie, in Lausanne. Inside this reconverted cinema, we were discovering Modeslektor. This german group, making electronic music, I briefly listened to them after H told me about their concert.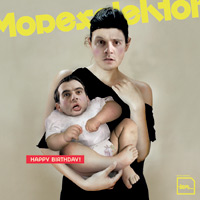 The concert was splendid! The small club was packed, the music ... transcending, the ambiance ... hot, jumping with the crowd, that made it small effect. I thank the club by the way, for providing free water to keep us for dehydrating.
I am someone who easily and quickly get bored, I am also big lazy dude; consequence, I rarely change the music saved on my mobile phone, so I do not listen to music often using it… normally! Because with Modeselektor, I do not get bored, I do not know why… well, I like that to listen and to listen again.
If you're not convince, Youtube is your friend. They perfected their intros, listen to The White Flash (note the presence of Thom Yorke). They plays with foreign sonorities in Hasir. They can also go slowly like Edgar or Ziq Zaq, and so much more!